Wedding Cars
The wedding car hire service from Kruuz Chauffeurs.
Wedding car hire in London with Kruuz chauffeurs is a simple affair.
Everything was perfect. I was extremely impressed with the service and the driver was wonderful.
For wedding cars in London, Kruuz chauffeurs offer excellent rates and unparralled service. Based in London we are idealy situated for London weddings.
We are experts in the field of weddings with over 12 years hands on experience in the wedding sector
We have a selection of the most sought after weddings cars and limousines. Add the special touch of a quality chauffeur car with wedding car hire from Kruuz.
Wedding Car hire London (www.hireweddingcars.com) is the dedicated wedding car hire site from Kruuz chauffeurs (www.kruuz.co.uk), a leader in the field of prestige and luxury travel.
Browse through our wedding car hire fleet to help decide on the perfect wedding car.

Kruuz Wedding Chauffeur
The prestige wedding car hire company
Our chauffeur driven wedding car hire fleet is in the most pristine of conditions, as compared to that of other wedding car hire companies in London. We welcome you to come and view the wedding cars beforehand and see the quality of our wedding cars.
Rolls Royce Phantom wedding cars for hire
Bentley Arnage wedding cars for hire
Bentley Continental Flying Spur wedding cars for hire
Mercedes S Class wedding cars for hire
Mercedes E Class wedding cars for hire
Chrysler 300c wedding cars for hire
Hummer, Lincoln, Chrysler and Excursion Limos for hire
We specialise in silver wedding cars, we have the Rolls Royce Phantom in Silver, Ice Blue, white and black.
Wedding Limo Hire
Whatever the occasion Kruuz can provide you with the perfect limousine. Ranging from 8 to 16 seats.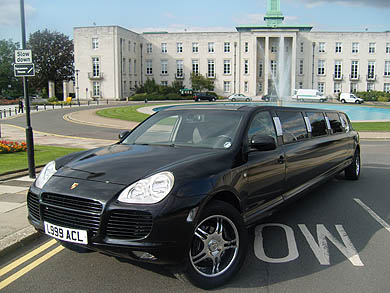 The Porsche Cayenne limousine is available from us from just £400 for a wedding in London. Call us with your requirements
Wedding car hire is not the only occasion that we cater for. We are Public Carriage Office licensed for all events such as honeymoon journeys, stag nights, airport transfers, meetings and nights out. We have an extensive range of vehicles, executive and prestige.
"We are very grateful for the excellent service that was
provided by Kruuz Chauffeurs and will be continuing in
the future for our celebrity chauffeuring needs.
Thank you once again"
Call us now for a free no obligation quote